Pecco Bagnaia Accident video surfaced on all over internet
On Sunday, September 3, 2023, at the Catalunya MotoGP, two major accidents took place harrowingly which led the event to be red-flagged. One of the two major crashes at MotoGP was of Pecco Bagnaia and the other was of Enea Bastianini. Though Pecco Bagnaia did not sustain any major injury and did not need to undergo surgery Enea Bastianini must undergo two surgeries as he sustained severe injuries in the accident. The short clips of the accidents at MotoGP also have surfaced on Twitter leaving people in a frenzy to know about the two riders. We have published this article after gathering the latest updates on the health of Pecco Bagnaia and Enea Bastianini. You are asked to stick with this page and go through this article till the end. Swipe down the page and read more details.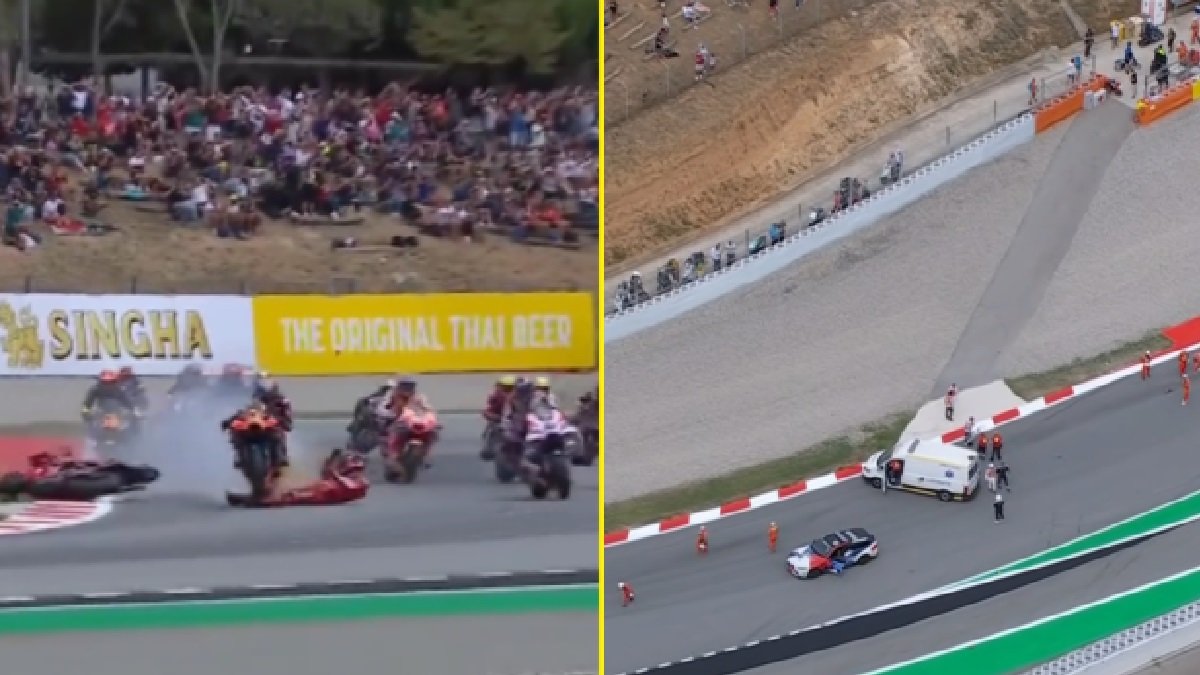 Pecco Bagnaia Accident video
Despite being involved in the scariest incident on Sunday at Catalunya MotoGP, Pecco Bagnaia managed to escape without suffering major injuries. But another rider, Bastianini has to undergo two surgeries. Reportedly, Pecco Bagnaia got involved in a crash during the first lap of the 24-lap race competition in Barcelona. He high-sided on the first lap. When he landed, a KTM bike overpassed from his legs. However, other riders and bikes managed to avoid Pecco Bagnaia but Brad Binder's KTM hit him in the legs. Scroll down the page and read more details.
Immediately, the Ducati rider Pecco Bagnaia was rushed to the hospital. Now reports have come out to describe his injuries. Davide Tardozzi of the Ducati Lenovo Team told a media outlet, "It seems less serious than expected." Later Ducati posted, "Bagnaia has sustained multiple contusions, but further medical checks have shown no fractures. The reigning World Champion will fly to Italy with the team." Shortly after the accident, the Medical Director of MotoGP, Dr. Angel Charte said "Pecco has had severe polytrauma". Swipe down the page.
Dr. Angel Charte further said a motorbike ran over Bagnaia in the femoral and tibial area. He also confirmed that X-rays of his legs have been taken and they only detected a small injury which is yet to be determined if it is current or old. Charte said, "We need to do an urgent CAT scan and that is why we have sent him to the general hospital." Conventional radiology can not confirm if there is a fracture. Thus, they need to do a CAT scan.